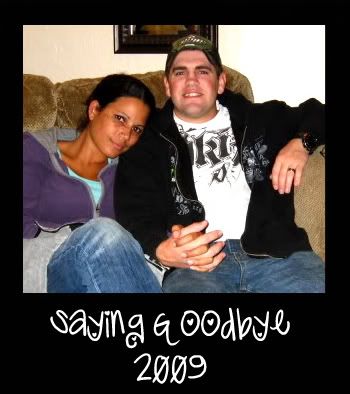 I have to be honest; I miss my husband so incredibly much it hurts. This time apart makes me wonder if I have it in me to be an Army wife, at one point in this journey I WILL have to deal with a deployment. In the 6 years together we have never been apart for more than a month or two. I've been spoiled. Let's review:

We met on November 21st, 2004. We have been inseparable since. There have been work ups, under-ways and duty days for a year and a half. We have had a month and a half apart when he was in Texas for A-School. Three years of shore duty, while it was a HORRIBLE schedule he was still home. We even did a 6 month separation where we still saw each other daily. Then we left the Navy to live a life as civilians. Enjoying Monday thru Friday, 8-5 jobs with weekends spent always together doing family things like 4-wheeling, mudding, camping, shooting. And now we've arrived to November 1st, 2009 when he got on the plane to leave. It's even worse than when we separated because I can't even see him.

This is the first time though we are really apart, three months with a short 2 week visit and another two to five more months apart. The length of the remaining time apart will depend on how the lovely judicial system decides on what is best for Lil t', to move with us or not.

Anyways back to the subject at hand, when we first met. I didn't need anyone but me and my kids in my life. He would go on underways, workups, duty days and I would chew those days up, spit them out and say "so what". I was so focused on being independent that I had not an ounce of compassion for other spouses who did miss their husbands. For the ones who said being apart hurt them physically. I called them weak, too dependent on someone, funny how life changes us because I am now that person. I am the person who cries at night as I pull down the sheets because I have to crawl in alone. I am the person who heart hurts when she looks at pictures of her marriage. I am the person who has to force herself to get up, dressed and leave the house some days. And this isn't even a deployment. I question my strength a lot right now. Am I making the right choice to support him re-entering the military? Should I have tried to persuade him to look back at the Navy but to re-class? Should I have tried to push for a civilian life? But as fast as those questions start to dance around me, I shove them out. What kind of person would I be, if I didn't support the man I love to do what makes him happy? Is it right to continue to watch him be miserable like he was for that six month break in service?

In the end, I know my strength is there. I just have to dig down a little deeper on those days than others. It's okay to question and doubt because it's during those moment you find out what you are made of.