I love it when I find a recipe that I'm hesitant to make but still try it and I fall madly in love with it. A couple weeks ago I made Chicken Stroganoff and it was to die for. We're running low on groceries and I'm lagging on going to the store since it's been raining cats and dogs. It's super quick to make, uses my crock pot, and makes the house smell absolutely delicious too.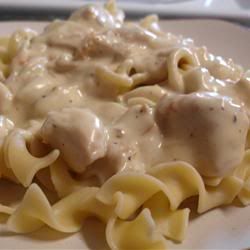 4 skinless boneless chicken halves
1/8 C. butter
1 package of dry Italian salad dressing mix
1 package of cream cheese
1 can of condensed cream of chicken soup (Have found that all the cream of soups can work great with this)
1.

Cut chicken into strips and place in crock pot along with butter and Italian dressing mix. (Normally I just place the chicken in, then cut the butter into small pieces and scatter it around, then sprinkle the mix over both) Cook on low for 5 to 6 hours. (if your chicken is thawed or half way thawed you can cook on high for about 3 hours)
Cut cream cheese into pieces, place cream cheese and soup in crock pot, mix.

Cook on high for another ½ hour. (Depending on if you have let the cream cheese warm up, it will melt faster and actually a little bit easier) Mix well.
After the chicken is cooked you can leave it in strips or as my kids like it; I just chop it up with a spoon till it hits shredded chicken. Now I normally serve this with no yolk egg noodles BUT we were out of them today and went with Penne Pasta, a much bigger hit with the penne pasta. As 'Tater said, "you get a extra burst of sauce when you bite on the penne's". 'Tater made homemade drop biscuits and brushed them with her concoction of melted butter and garlic salt. I was going to add some veggies into the mix but honestly I forgot until we were half way through. Oh well.
Yesterday I attacked Drop Zone #1. Took longer than I thought because I have a short attention span and kept getting side tracked with watching TV, playing video games, and the lovely FB games. Afterwards I polished it with a homemade eco-friendly polish. Works great, no strong odors, and I don't even mind throwing the polishing rag into the washer with the regular laundry. I haven't dived straight into going green but I have noticed the kids are a lot more receptive to small changes along the way.
I really need to find some old shoelaces to tie up those cables but until then they will just have to sit there.
The furniture polish recipe:
4 TBSP Lemon Juice
2 TSP Olive Oil (I just used EVOO)
3 TBSP water
If you have a spray bottle, add all together, shake and spray. I don't so I use an old Rubbermaid container, pop on lid, shake, and then just dip my cloth into the mixture. If you have left-overs just rinse it out as oil can go rancid after sometime.