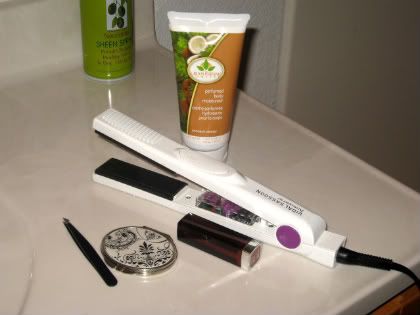 Growing up I used to look at other mixed race girls with straight hair and wonder how they achieved it. I would look in the mirror and curse my hair. Having an Afro as a kid was NOT cool. It was always okay in the beginning, and then it would be turned into the butt of jokes by everyone. If I laid my head against something too long I'd looked like a soda can with a dent. A new sweatshirt pulled on and my hair looked like it snowed upon it. Everything stuck to it. To say I was jealous was a complete understatement, I was miserable.
WATCH OUT! It's Cousin IT!
At 20 I went and had my hair relaxed for the very first time. Sometimes I wonder if I had done it in High School if I would have had a better time; had the confidence to ask my crush out, and *gasp* even been asked out to a school dance. The lovely what if's of an ugly duckling. After relaxing my hair it became obvious quickly that I had absolutely NO "girly gene" in me to take care of it. I did not know that regular shampoo was not good for ethnic hair, until my hair was so dry it was full of static and breaking. Had no idea how important conditioner was. Did you know that rubber bands are not healthy for your hair? I didn't even learn what "wrapping" was until about 4 years ago and then I didn't even grasp it until about a year ago. A year ago I was 29; I had been straightening my hair for 9 years! I went through many different flat irons with still not a clue in the world on exactly how to use them. They either ruined my hair, the handles broke, or the plates would flake.
Can you see the difference?
That was all until I met a little guy named Vidal Sassoon Answers: 1" Straightener Coarse Hair. My, oh my how that little guy has become my best friend. I still don't straighten my hair regularly but when I do, I love the results. The one I have is for coarse hair since it's beyond coarse; is that even possible? I think so. Love how it heats up in 30 seconds, which is great for a quick touch up before heading out the door. The plates are ceramic vs. the ceramic plated ones that flake, then grab your hair breaking it. A big plus for me is it has auto shut-off! I am notorious for leaving things on as I run to chase a kid out of the dog water, from climbing the entertainment center. And last but not lastly, thanks to the swivel cord I no longer get tangled up in the cord causing serious injury to myself. And the best thing it didn't cost me a fortune. I was able to bring it home for only $27.99. Not bad since I was almost to the point of selling a child for Chi.
Also if you notice in the first picture that fabulous bottle of lotion from
The Cream Perfume Company
, I was the recipient of it after winning
Mass Hole Mommy
's giveaway. I am VERY picky about how my coconut products smell. I was very surprised and happy that I loved it. My first win in a giveaway since I started blogging, so excited. You must go visit her and her giveaways because they are all wonderful.