My Favorite Christmas Recipe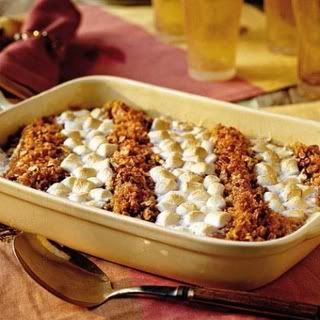 I don't even have to think twice about this recipe. As a kid my grandma used to make Candied Yams every year for Thanksgiving and Christmas, there was no hope for me. I became an addicted before I knew what was happening. They were so yummie, sweet and best of all had cute golden brown crispy gooey marshmallows. Over time it's evolved to Sweet 'Tater Fluff. There is no real rhyme or reason to it. I just add ingredients till it's so tasty I can't stop eating it off my Kitchen Aid's beater. It's a fairly simple recipe depending on how many people are eating it.

Couple cans of Princella's sweet potatoes

1 can of sweetened condensed milk

Brown sugar

1/3 - ½ c. butter

Couple dashes of Vanilla extract

Walnuts

Marshmallows

Just add the sweet potatoes, milk, sugar, vanilla and walnuts in mixer till mixed, add as much brown sugar to as sweet as you like it. Pour into baking dish, top with marshmallows, and place in oven at 400 for about 20 to 30 min. I used to leave out the walnuts but I don't know they just added something to the dish so they are a staple for me. The kids used to hate it but now they ask for every year, along with begging me to make more for leftovers. Guess it's not too horrible if they want extras.

♥ ♥ A Muddy PAW ♥ ♥