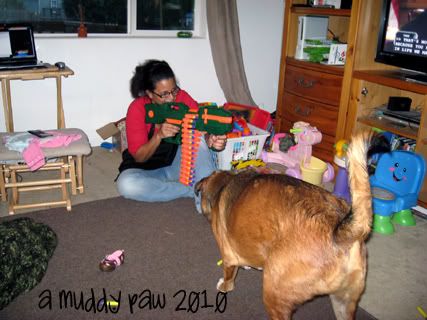 Don't be jealous of my big gun. It shots FAR and it hurts like hell when ya get hit by it. I love shooting the kids when they're trying to sneak out of their bedrooms.

I am not a nice mom at times. It's not because I don't love my children. It's not because I find pleasure in listening to them cry and whine. It's because at some point I am completely drained of their constant need to not listen to anything that comes out of my mouth. Last night we had finished dinner and just watching TV relaxing, when Lil t' went into the bathroom. During this time the channel we're watching is really low on the TV so I had the surround sound on. A commercial came on that was pretty loud so I hit mute; that's when I heard the yelling's of an 8 year old coming from the bathroom. He wants 'Tater to get him toilet paper. 'Tater covers her mouth with a clean prefold, ready to face the nastiness that has escaped her brother; however the bathroom door is locked. I tell her to let him know the toilet paper is under the sink in the bathroom with him so she shouldn't have to go in there in the first place. For the next 10 minutes he's in there yelling and calling for someone to get him toilet paper. Silence as no one paid attention. Then he yells that the door is unlocked. At this point I had point myself in time out before responding to him. He could waddle to the door and unlock but he couldn't waddle an extra 4 shuffles to grab the toilet paper. I turned the volume up a tad bit louder and continued to ignore. A total 20 minutes goes by from the first time I heard the yells to him emerging from the bathroom, complaining about how we forced him to get his toilet paper. Why is it so incredibly difficult to put the toilet paper on the roll? Not on top, not on the cloth diaper container, not on the side of the tub, not on top of the toilet, not on the floor next to the toilet but to put it on the actual holder itself! Along with having to constantly remind them to replace the toilet paper, I am so tired of repeating "If your checks are sitting down, then check the roll"? I need to put a huge sign in the bathroom.




Wednesday was The Princess's birthday and we didn't do anything major. While running errands at Wal-Mart, I spotted the cutest cupcake mold ever, Wilton's mini heart pan. I didn't feel the need to stress over the type of cake or presentation really because, let's be honest, what 1 year old is going to say 10 years later "my mom made this awesome cake with a blackberry filling and homemade ice cream. It just melted in my mouth"? *the sounds of crickets have filled the air* Yeah thought so. The kids helped with just a simple Strawberry cake mix and when the older kids got home from school, I let them each decorate their cupcake.

Let me just say these did not turn out to be "mini" cupcakes. Either I put too much batter in or the mold was bigger then what I would label "mini", but they were perfect size for each kid. It really was fun to all be together in the kitchen, decorating, and laughing. We had spaghetti with ground turkey with salad which of course she made a mess. I was incredibly happy to see The Man logged into Yahoo right as we were cleaning up because that meant he could SKYPE with us. Booted up SKYPE, placed the laptop right smack dab in front of The Princess and we all sang Happy Birthday to her. I feel so lucky that while he is away he was still able to be a part of her first birthday. It was a perfect family birthday for a one year old.