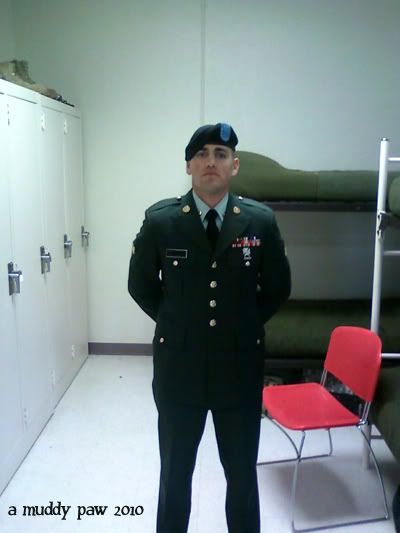 Today my best friend and love of my life graduates his AIT class.
It's bittersweet for me really. We have been together for 5 and a half years while we have been friends for 6 years. During those 6 years I have missed every single major thing in his career. I missed when he left on deployment and came back (in my defense he was trying to date me, I wanted nothing to do with him, and it wasn't supposed to evolve into a relationship); I missed when he graduated A school as an MA (Master at Arms in the Navy; in plain English "cop") because I was 38 weeks pregnant with Monkey in San Diego and he was at Lackland AFB. I missed his promotion; that was at A school as well. I missed him swearing into the Army; I was working and couldn't get the day off to drive to MEPS that was 4.5 hours away. I missed him graduating the Army's WTC (Warrior Transition Course); because it was on December 16th and he was coming home the next day for Christmas Exodus so with it being so close to Christmas we decided I'd stay home with the kids and use the money on presents. And now here we are at AIT, he's there and I'm here. We just couldn't swing it since the Army messed up the pay in January by counting him AWOL (absent without leave) while he was there in class. I just love how they are quick to yank that money away but will move slower than a turtle in molasses to give it back.
A part is jealous that his aunt and uncle will be there to witness it but I have to remind myself of the bigger picture. Getting the kids and myself to him as fast as possible and putting this family back together again. If I miss another moment in his career I am going to keel over and push the daisies up. He tells me all the time it's okay, he understands; but I worry that he doesn't feel a bit let down when other wives and family are there. All I can do is constantly remind him how proud I am, how much I love him, and how fast I'm working on us getting to him.