Last week I finally hit 155lbs. I was SOOO excited, finally back to my normal weight range that's been for the last 8 years or so. Twelve pounds down in 2.5 months and I didn't even have to cut out my beer. Sadly I think I gained it all back by my snacking lately. I am back to 158lbs, but it could be the mountain of sweet tea I've been drinking today.
Most woman I know around this time of year are hitting the gyms hard, dieting, not straying; me on the other hand I love my food and snacks well too much to give them up. I even have an elliptical in the living room facing the TV and yet it serves as a coat rack. I hate to say it but I am also lazy to a point. I like to exercise but if I don't see immediate results then I give up after the 3rd day. Besides those reasons, I have to be honest for the most part I love the way I look. Yes I would love for my stomach (hold on as I was typing one of my cats just jumped off my bed towards to open door and instead of running out of the room he jumped right into the door and bounced back. Funniest thing today. True story.) to not stick out so far, but really only by 2.5 inches. I would love for my thighs to not rub together all the time but I like having semi-big thighs, they are sexy in a skirt my husband says. I would DIE (yes really I would commit murder) to get rid of the arm pit fat I have so I could wear strapless shirts and not feel self conscious. I wouldn't mind not having back fat, but it's really not huge so hmm scratch that. And of course I would kill for a breast lift but no matter how much weight I loose and muscles I gain, I will still have lost my perky girls to breastfeeding and pregnancy. But that's okay too because I can say with pride that I have carried healthy beautiful children into this world and gave them the nutrients they needed from me.
It truly helps that while my husband pushes for me to eat healthier and work out more, it's not because he wants me to lose weight. He likes my curves and I think he would die if I lost them. He just wants to see me firmer, which I admit I would love to see too. Unfortunately the Peanut Butter Reese's cookies that Wal-mart's bakery sells disagrees; and fortunately for the cookies my love for peanut butter and cookies over powered the urge to lose those dreaded 2.5 inches.
With that said, I have to share last night's dinner. It was the best in the world, better than any restaurant I've been too but maybe that's because I didn't have to send it back two or three times reminding them to take that nasty horrible disgusting sauerkraut off it.
First marinate a brisket in a can of beer and water. (don't mind the mess on the cooker another causality of the children's FABULOUS washing skills) I prefer to cook my meats in a slow cooker frozen, therefore as it thaws the water keeps it moist. Depending on how big your brisket is you can use one or two cans. Cook on high for 2 hours then turn to low on for the remainder till dinner time.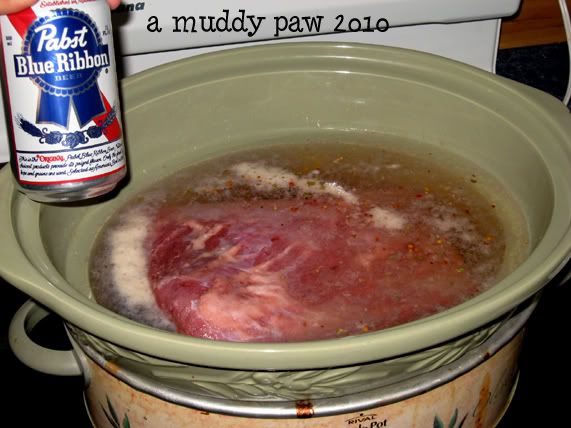 Once ready, take out and cut into thin slices or shred it, your choice. Heat up a skillet, butter 1 side of two pieces of rye bread. Place 1 slice in skillet, pour some 1000 island dressing, Swiss cheese, corn beef, Swiss, 1000 island, and top with the other slice. Toast on either side. Serve with a side dish of 1000 island if you like to dip 'em. And for the kids made cheesy garlic mashed 'taters since we couldn't find 'tots in the freezer.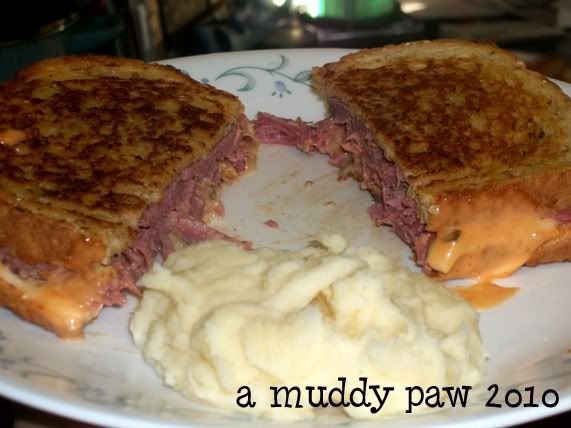 It's okay to drool, just don't let it hit the keyboard. And this my friends is why I can't go on a diet. Food is pure love.