Since we moved to this redneck town, we only get Panda Express when we drive to the big city. Which honestly is about every 3 or 4 months. I went from having them right down the road to being 4 hours away. It was a heart breaking divorce with them. We tested a new recipe out on the kids and it was a hit. I personally think I can do more with it but they both said they loved it and Monkey had 2 helpings of "chicken" until I got him to understand it was pork. Once he realized it wasn't "chicken", he freaked out yelling he hates pork. *sideeye* Hmmm no he doesn't, he didn't the other week when we had it as shake it bake with applesauce. I tried to photograph my cooking but kept forgetting shots as I was trying to shoo Princess from the trashcan and Monkey from the back of the couch. Lol Oh well, it still turned out awesome and I'm sure someone else will enjoy it.
ORANGE PORK
1lb pork chops
1tsp garlic
1 c. Orange Juice
¼ c. Soy Sauce
2 tblsp. Brown Sugar packed
2 tsp cornstarch
4 tsp water
A ton of dashes Red Pepper Flakes
Steamed Broccoli
Steamed Sugar Snap Peas
Water Chestnuts
Cut up your chops into cubes.
Don't pay attention to how bad my pan is, I love it and can't part with it. A tsp, or a tablespoon or more of garlic.
Toss in the pork and sizzle the piggy up.
Brown the pork all the way through and remove.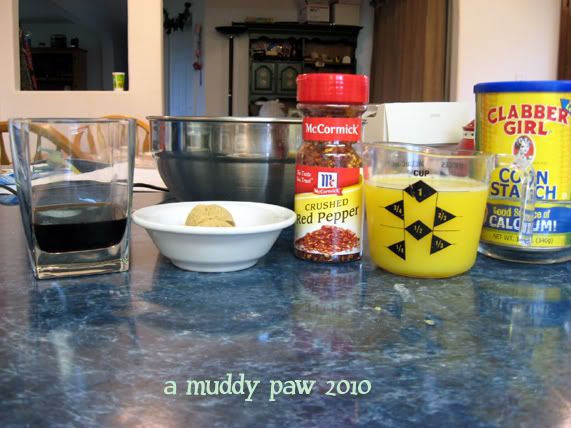 Mix up orange juice, soy sauce, brown sugar, and flakes and add to pan. Bring to boil and reduce for a minute or two. Mix up cornstarch and whisk it into the pan. Now I can't say this enough WHISK IT!! Don't be afraid to WHISK IT! I am always too shy about it and end up with lumps, then I'm stuck trying to whisk the lumps out and that's just more work while you are throwing F-bombs under your tongue praying the kids don't hear you and the beads of sweat building on your forehead don't drop into the food. Let thicken.
Add in the pork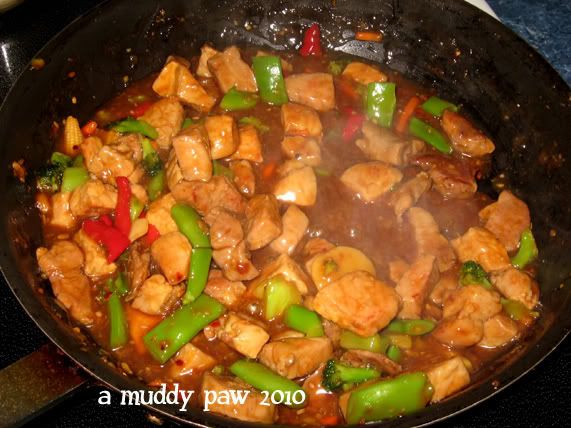 Then the veggies. Stir it around to evenly distribute the sauce.
Serve over rice and enjoy!