I did not get up an extra hour earlier this morning to write out my "Not Me!" only to sit here staring at the news completely dumbfounded on what happened this past week.

I did not purposely drive over the potholes making sure to make the truck bounce yesterday to torture Dirt Diver and his 24 hour hangover from the UFC fights. Because I love him so much. I would never go out of my way to torture him while he's already hurting. Never in a million years would I giggle as I watched him run for the bathroom upon the sun hitting him in the face welcoming him to the land of the living.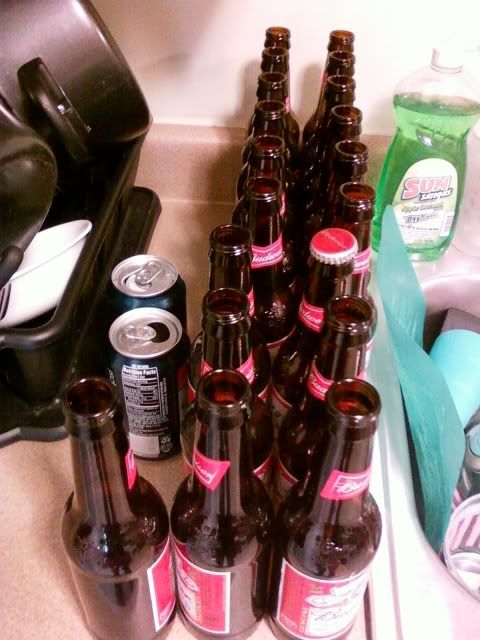 I did not spend an entire night sitting on my kitchen counter drinking beer vs. watching the $50 UFC fight I ordered, only to miss every single fight. I would also never take pride in all that being my bottles and being able to wake up, shower, and function the next morning like nothing happened. I'm so incredibly past the party days.


I already have a Sweet Tea addiction, like to the point of making 3 gallons a week for the past year or so. But I did not find out my husband has even more of an addiction by hitting up McD's Sweet Tea 3 times a day. I, being the wise one who sticks with her homemade stuff, did not develop an addiction to this liquid crack either. I do not find stupid reasons to drive off post just to go through the drive through to grab a cup.


Upon getting the truck fixed, I did not let my daughter wonder around with only one shoe on at the shop. I did not let her play with greasy bolts and nuts just to watch her be happy. I do not encourage my children to get messy and love the smell of greese and dirt as much as I do. I would ensure my daughter would be prim and proper and stay clean.

Man today's post sucks. I knew there was a reason I am 100% fully against getting up early in the morning. It ruins your life. Seriously. It kills your thinking and makes you sluggish.
Down with getting up early.