Don't you just LOVE Reba Mcentire? I love all her songs by mainly her older ones. "The Night The Lights Went Out In Georgia" has been playing in my head since I had stumbled across this gruesome scene.

The other night I was getting ready for bed when I found my doggy Harley struggling for life. I about lost it. I yelled, hyperventilated as I struggled to remove him from the evil clutches of the baby pink hanger. As I was struggling to save his life, there was an evil deep laughter emanating from under the comforter. I pulled the covers back or find Dirt Diver curled up with Mr. Green laughing his ass off.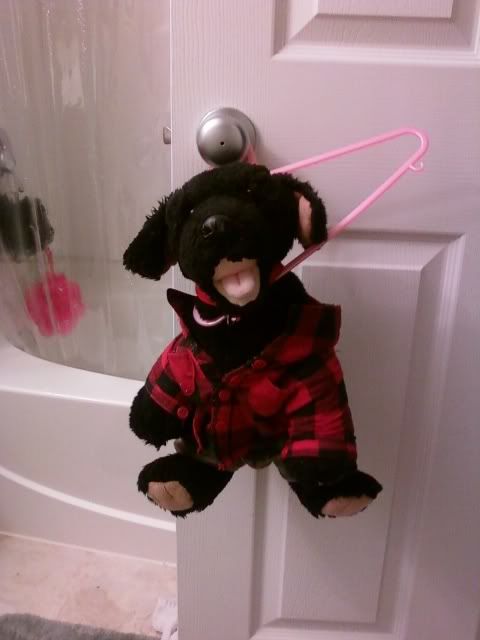 I immediately blamed and accused Mr. Green and of course Dirt Diver claimed his innocence. *rolleyes* I don't believe it save my life. For the past 3 years Mr. Green has been caught trying to attack my innocent Harley. I've found him hanging from the ceiling fan twice, both times the fan was on high. Found him hanging from a shoelace in a closet with a forged note. Found him laying on the bed with a hammer across his body.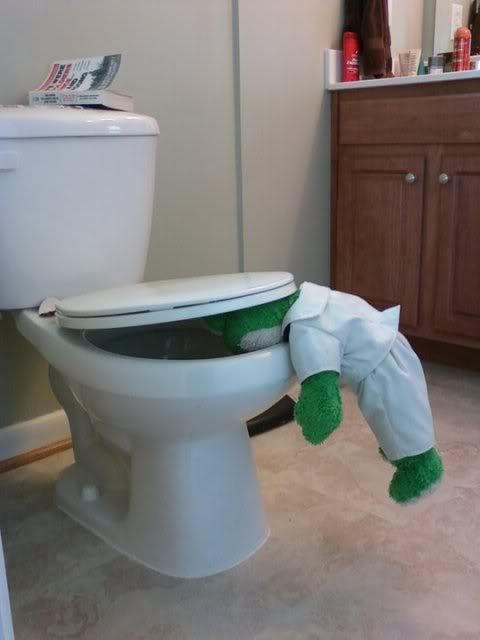 *Just reposting the "near" drowning of Mr. Green that I had NO part of*

Seriously how much more can my poor puppy take from this vicious amphibian! Dirt Diver claims that IF Mr. Green had a hand in it, it was payback for the near toilet drowning that occurred last month. I still stand by my word that we had absolutely NO hand in that. It's not my fault Mr. Green felt guilty for all the attempted murders on Harley.

Sadly I think the battle has just begun.