I received an email from a lovely associate asking if I'd like to try out their services in exchange of doing a review. I was puzzled and intrigued so off I ventured since I had never heard of Tiny Prints before. Took a little trip over to Tiny Prints and just fell in love with their work. They are so festive for any celebration possible.
Don't worry so did I when I first heard of them. They are a very personable company that offers a large number of options for cards, from holiday to invitations to birth announcements to whatever your creative mind can dream of. They started as a small company of 3 close friends in 2003 on the eve of Ed Han's daughter's birth with hopes to bring back the art of letter writing. They strive for each person's experience to be even better than if you went to a boutique store.
Finding the right card for you is even simple too. Once you pick the occasion for your cards, you can then search by design style, price, and number of photos, color, card format, and many other choices. Every step of the way to creating your perfect card, Tiny Prints make its easy and enjoyable. What made this even easier were their personalization tools to edit the cards allowing for you to see a preview of what the cards would like.
The ability for personalization from pictures to text to colors, so that when your friends and family receive one they can see your personality vs. a company's' was very easy to use.

Tiny Prints allows for you to upload your pictures with no problems. Their interface can upload from Picasa, Flikr, Facebook, SmugMug and your computer.
I personally loved that I could save cards while browsing through the selections to compare them against each other. How many times have you liked something on page 1 but page 14 you can't remember which one you liked or even where to find it? Their comparison tool eliminated these frustrations.
It took a LOT of hours humming, awing, arguing, and voting on a card that would suit our family. Some of the family favorites were...
Before I received our cards, I was told of their satisfaction guarantee they offered; reprints for FREE if not 100% satisfied with your order. But like everything else with our experience with Tiny Prints, that was not necessary as we LOVED our card the minute we opened the box. We picked, we created, and then we waited anxiously for the arrival. What I thought was going to be at least a week of waiting actually ended up being only 3 days. We tore into them like it was Christmas time all over. Everyone was impressed by being in their very own Christmas Card.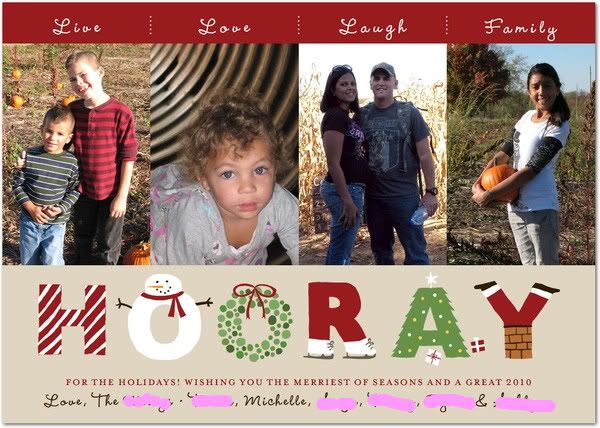 We are now on a mission sending them out here and there as we track down missing addresses.
Don't delay, head on over to Tiny Prints because I PROMISE you won't be disappointed. Using their services helps keep families in touch especially with being a Military Family their services allow for us to send cards to friends and family all over the globe with a touch of love.
** Please note that while Tiny Foots provided a $50 credit towards the purchase of any product they sell, it did not sway my opinion one way or the other. All opinions conveyed in this review are done soley of my own doing.**